Gwydir Mawr – Former Marin Trail
Trail Summary:
Ride Time: 02:04:08
Ride Distance: 23677 m
Ride Climb: 860 m
Ride Descent: -861 m
Ride Details
The Gwydir Mawr Mountain Bike trail was formerly the Marin Trail, which from the early 2000s was one of the groundbreaking mtb routes. It was recently re-branded as the Gwydir Mawr trail after Marin declined to re-sponsor it as the Gwydir Mawr trail sponsored by Marin. Surely a second best branding, and the trail will be known as the Marin Trail whatever the powers that be decide. As MTB Riders we like to be old skool, so in honour of that we'll be calling it by both names – as it was and always will be the Marin Trail to us.
The Gwydir Mawr / Marin Trail starts from the Sawbench car park a mile or so outside the town of Llanrwst in the county of Conwy which is just north of the popular village of  Betws-y-coed.
The trail should take around 2-3 hours to complete, depending on the ability and fitness of the rider and the trail conditions on the day. The Gwydir Mawr trail has a bit of a marmitey reputation, probably down to the amount of climbing involved before you can enjoy the downhill sections. So bear that in mind if you're not much of a hill climber. The trail is classed as a Red Difficult Grade, so you'll need a decent MTB to cope with it as well as a high technical proficiency on similar trails. 
The trail crosses numerous footpaths (or the footpaths cross the Gwydir Mawr Trail – depending on your point of view) and a couple of minor roads, but these are well signposted on the route. The walking trails are popular with 'slower moving' groups and families, so we suggest extra care if you know what we mean!
You can also set off from one of the other car parks in the Gwydir Forest and pick up the trail from there, such as from Llyn Sarnau.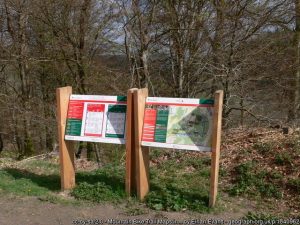 Ride Map and Elevation Profile
Download file for GPS
Remember that you can download the GPX File for the MTB route above and use in your GPS device or on your favourite mapping app. We'll have a run down of how to use GPX files on your MTB route soon. 
The Gwydir Forest near Llanrwst in the county of Conwy boasts only it's trails, with no facilities at the forest. The main trail is the Gwydir Mawr, and part of the same trail can also be ridden as the Gwydir Bach.

Share This:
MTB Trail Videos and Gallery
, , ,